This is a one unit system. Need a multi-room system? Click

here

!
Features
Reduced width and compact design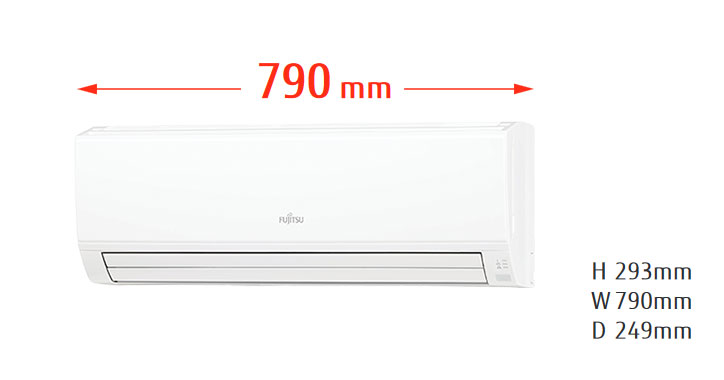 Surprisingly powerful airflow is provided from this compact unit 790 mm wide.
On/Off Program timer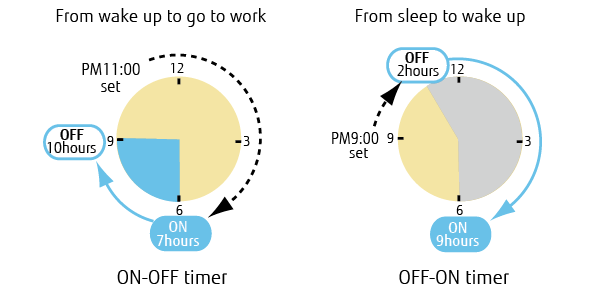 You can set on/off or off/on times depending on your lifestyle needs. (Selectable time spans: 0.5, 1, 1.5, 2, 2.5, —–9.5, 10, 11, 12 hours)
Powerful operation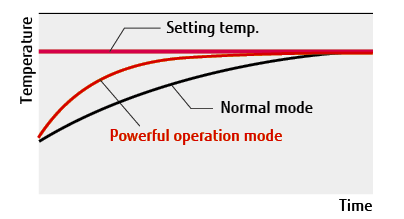 In powerful operation, the compressor operates at maximum speed for 20 minutes to provide a powerful airflow. It quickly cools or warms the room to the desired temperature.
Economy operation
Set temperature automatically increases (during cooling operation) or decreases (during heating operation) by 1°C to save on energy.
Low ambient operation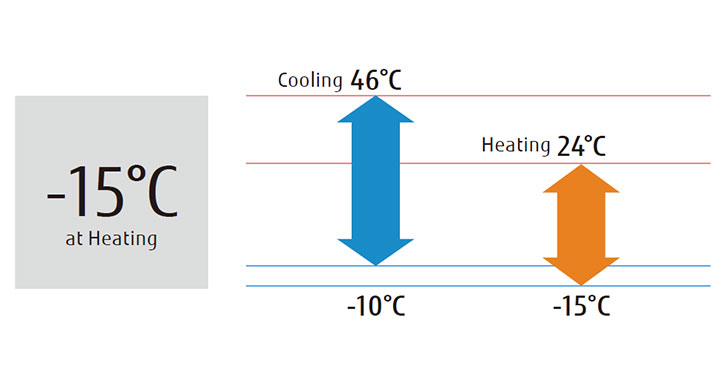 Specification
Power source
Phase
Single-phase
Voltage
230 V
Frequency
50 Hz
Capacity
Cooling
7.1 (0.9 – 7.7) kW
Heating
8.0 (0.9 – 9.0) kW
Input Power
Cooling
2.420 kW
Heating
2.225 kW
EER
Cooling
2.93 W/W
COP
Heating
3.60 W/W
Pdesign
Cooling
7.1 kW
Heating (-10°C)
7.1 kW
SEER
Cooling
7.10 W/W
SCOP
Heating (Average)
4.00 W/W
Energy Efficiency Class
Cooling
A++
Heating (Average)
A+
Max. Operating Current
Cooling
13.5 A
Heating
17.5 A
Annual Energy Consumption
Cooling
350 kWh/a
Heating
2485 kWh/a
Moisture Removal
3.1 l/h
Sound Pressure Level
Indoor (Cooling)
High
51 dB(A)
Middle
45 dB(A)
Low
38 dB(A)
Quiet
33 dB(A)
Indoor (Heating)
High
52 dB(A)
Middle
45 dB(A)
Low
41 dB(A)
Quiet
37 dB(A)
Sound Pressure Level
Outdoor (Cooling)
High
55 dB(A)
Outdoor (Heating)
High
57 dB(A)
Sound Power Level
Indoor (Cooling)
High
64 dB(A)
Indoor (Heating)
High
65 dB(A)
Outdoor (Cooling)
High
65 dB(A)
Outdoor (Heating)
High
67 dB(A)
Air Flow Rate
Indoor (Cooling)
High
1040 m3/h
Outdoor (Cooling)
High
2885 m3/h
Net Dimensions
Indoor
Height
293 mm
Width
790 mm
Depth
249 mm
Net Dimensions
Outdoor
Height
632 mm
Width
799 mm
Depth
290 mm
Net Weight
Indoor
10.0 kg
Outdoor
38.0 kg
Connection Pipe Diameter
Liquid
φ6.35 mm
Gas
φ12.7 mm
Drain Hose Diameter
φ13.8(I.D.), φ15.8 to φ16.7(O.D.) mm
Max Pipe Length (Pre Charge)
30 (15.0) m
Max Height Difference
25 m
Operation Range
Cooling
-10 to 46 °CDB
Heating
-15 to 24 °CDB
Refrigerant
Type
R32
Global Warming Potential
675
Charge
1100 g (0.743 CO2eq–T)
Indoor Unit : ASYG18KLCA

These air conditioning units must be installed by an F-Gas qualified engineer.  We can install the unit for you using our F-Gas Certified Engineers. Please note if you do not select our installation service  we will not ship the unit until we have obtained evidence from you that you will have the unit installed by an F-Gas qualified engineer. This is a requirement of the Article 11 (5) EC/517/2014 on fluorinated greenhouse gases and The Fluorinated Greenhouse Gases Regulations 2015.
[CP_APP_HOUR_BOOKING id="4″]